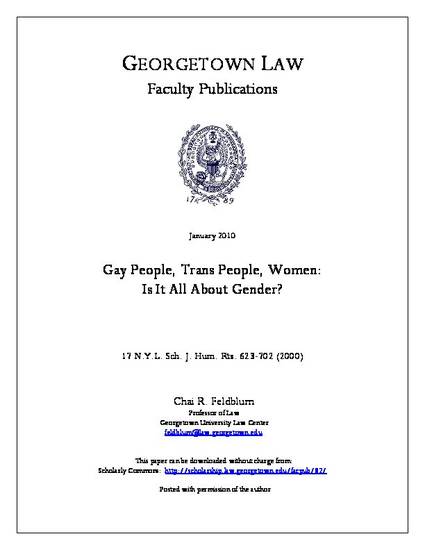 Article
Gay People, Trans People, Women: Is It All About Gender?
Georgetown Law Faculty Publications and Other Works
Publication Date
1-1-2000
Abstract
A few gay rights theorists have long pointed out that discrimination on the basis of sexual orientation can be conceived of as discrimination based on sex. But those of us who play primarily in the legislative or litigation arenas have largely ignored the practical applications of that insight. In this brief essay, I want to consider whether it makes sense for gay rights legislative advocates and litigators to continue to downplay the gender non-conformity aspects of gay sexual orientation . . . the first part of this essay reviews activities that occurred between 1993 and 2001 regarding coverage of gender identity in ENDA. In an appendix to the essay, I include a number of primary materials that were written during this time period. I include these documents both to provide background for my comments in this essay, as well as to help preserve a historical record of a fascinating and controversial issue of our times. In the latter half of this essay, I review trends in the case law that I believe should cause us to rethink some of the positions I, and others, took during this time period.
Publication Citation
17 N.Y.L. Sch. J. Hum. Rts. 623-702 (2000)
Citation Information
Chai R. Feldblum. "Gay People, Trans People, Women: Is It All About Gender?" (2000)
Available at: http://works.bepress.com/chai_feldblum/7/