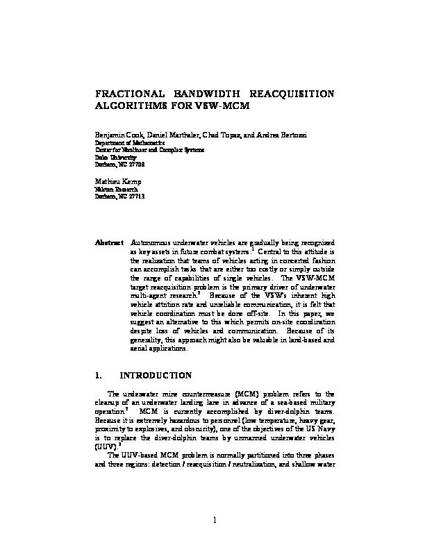 Contribution to Book
Fractional bandwidth reacquisition algorithms for VSW-MCM
Multi-robot systems: From swarms to intelligent automata (2003)
Abstract
Autonomous underwater vehicles are gradually being recognized as key assets in future combat systems. Central to this attitude is the realization that teams of vehicles acting in concerted fashion can accomplish tasks that are either too costly or simply outside the range of capabilities of single vehicles. The VSW-MCM target reacquisition problem is the primary driver of underwater multi-agent research. Because of the VSW's inherent high vehicle attrition rate and unreliable communication, it is felt that vehicle coordination must be done off-site. In this paper, we suggest an alternative to this which permits on-site coordination despite loss of vehicles and communication. Because of its generality, this approach might also be valuable in land-based and aerial applications.
Publisher
Kluwer Academic Publishers
Citation Information
Ben Cook, Daniel Marthaler, Chad M. Topaz, Andrea L. Bertozzi, et al.. "Fractional bandwidth reacquisition algorithms for VSW-MCM"
Multi-robot systems: From swarms to intelligent automata
Vol. II (2003)
Available at: http://works.bepress.com/chad_topaz/9/