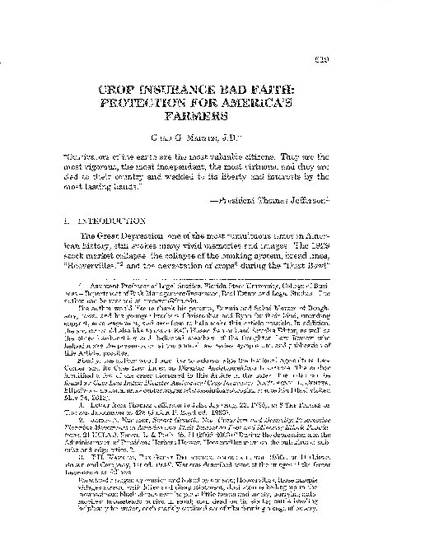 Article
Crop Insurance Bad Faith: Protection for America's Farmers
Creighton Law Review (2013)
Abstract
This article examines issues concerning the potential liability of crop insurers for insurance bad faith, and discusses cases to date on the issue of federal preemption of insurance bad faith claims under the Federal Crop Insurance Act (FCIA) and the development of a general rule that bad faith claims under state law are not preempted by the FCIA. The article argues that the crop insurance bad faith remedy is designed as a check against egregious, intentional and reckless misconduct of a crop insurer in the handling of a claim and should be preserved by the courts.
Citation Information
Chad G. Marzen. "Crop Insurance Bad Faith: Protection for America's Farmers"
Creighton Law Review
(2013)
Available at: http://works.bepress.com/chad_marzen/19/