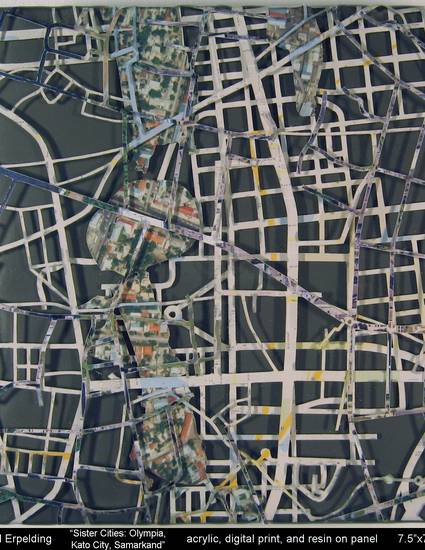 Presentation
Systems of Place
The Gallery at the Kenneth J. Minnaert Center for the Arts, South Puget Sound Community College, [Olympia, WA] (2016)
Abstract
The installation, which features intimate compositions of layered maps and large scale linocuts of urban existence, considers the complexities of visualizing place, and the impact place has on our ability as humans to locate ourselves within it. The maps were composed by Chad Erpelding and the linocuts by Florin Hategan. The exhibition runs through March 25.
Sister Cities: Olympia, Kato City, Samarkand. (2012) inacrylic, digital print, and resin on panel, on display.
Publication Date
February 29, 2016
Citation Information
Chad Erpelding. "Systems of Place"
The Gallery at the Kenneth J. Minnaert Center for the Arts, South Puget Sound Community College, [Olympia, WA]
(2016)
Available at: http://works.bepress.com/chad_erpelding/5/