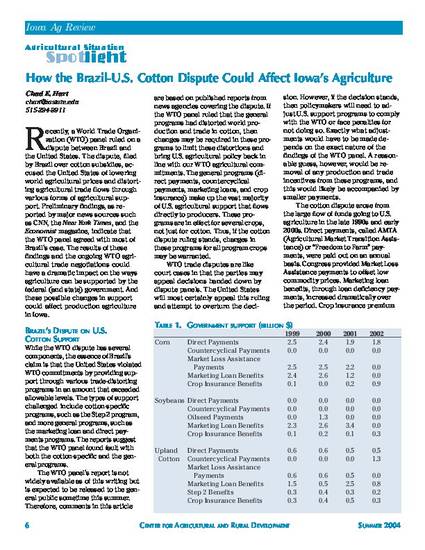 Article
How the Brazil-U.S. Cotton Dispute Could Affect Iowa's Agriculture
Iowa Ag Review
Abstract
Recently, a World Trade Organization (WTO) panel ruled on a dispute between Brazil and the United States. The dispute, filed by Brazil over cotton subsidies, accused the United States of lowering world agricultural prices and distorting agricultural trade flows through various forms of agricultural support. Preliminary findings, as reported by major news sources such as CNN, the New York Times, and the Economist magazine, indicate that the WTO panel agreed with most of Brazil's case. The results of these findings and the ongoing WTO agricultural trade negotiations could have a dramatic impact on the ways agriculture can be supported by the federal (and state) government. And these possible changes in support could affect production agriculture in Iowa.
Citation Information
Chad E. Hart. "How the Brazil-U.S. Cotton Dispute Could Affect Iowa's Agriculture"
Available at: http://works.bepress.com/chad-hart/50/