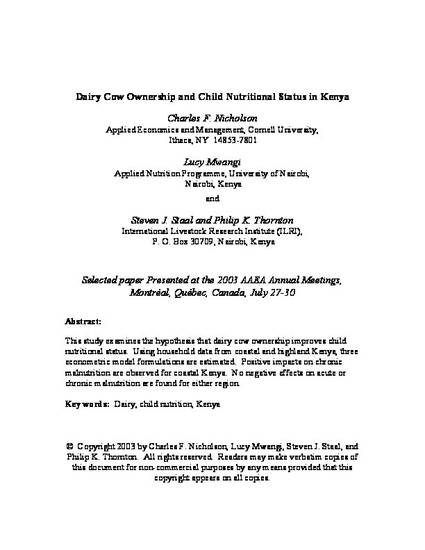 Presentation
Dairy Cow Ownership and Child Nutritional Status in Kenya
2003 AAEA Annual Meeting: Montréal, Québec, Canada
Publication Date
7-27-2003
Abstract
This study examines the hypothesis that dairy cow ownership improves child nutritional status. Using household data from coastal and highland Kenya, three econometric model formulations are estimated. Positive impacts on chronic malnutrition are observed for coastal Kenya. No negative effects on acute or chronic malnutrition are found for either region.
Citation Information
Charles F. Nicholson, Lucy Mwangi, Steven J. Staal and Philip K. Thornton. "Dairy Cow Ownership and Child Nutritional Status in Kenya"
2003 AAEA Annual Meeting: Montréal, Québec, Canada
(2003)
Available at: http://works.bepress.com/cfnichol/2/