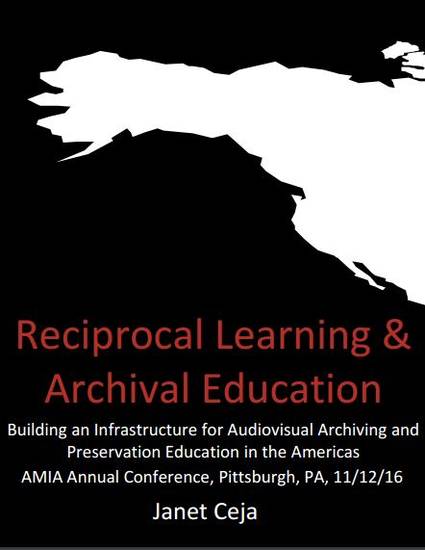 Presentation
Reciprocal Learning and Archival Education
Association of Moving Image Archivists Conference (2016)
Abstract
Examinations of the development of moving image archival and preservation educational programs have been dominated by the United States and Europe, and historically educational efforts outside of the aforementioned areas haven't been included in these discussions. This session will focus on diversity in educational methodologies and environments being used in the field, featuring participants from Latin America, Canada, and the U.S, and including topics such as academic instruction in audio-visual and digital preservation, collection management, inclusive pedagogy, and oral history, experience with online classes and instructional technology, plus opportunities provided by independent courses, institutional partnerships, workshop series, fellowships, and residencies. The session will also explore assessment of educational efforts, development of measurable outcomes, and leveraging of the profession's multidisciplinary background, and focus on future needs of the profession and current gaps in educational access and approaches.
Panel Abstract for Building an Infrastructure for Audiovisual Archiving and Preservation Education in the Americas
Keywords
Recipricol Learning,
Education,
Archives,
Pedagogy
Publication Date
Fall November 12, 2016
Citation Information
Janet Ceja Alcalá. "Reciprocal Learning and Archival Education"
Association of Moving Image Archivists Conference
(2016)
Available at: http://works.bepress.com/ceja/7/
Creative Commons License
This work is licensed under a Creative Commons CC_BY-NC-SA International License.