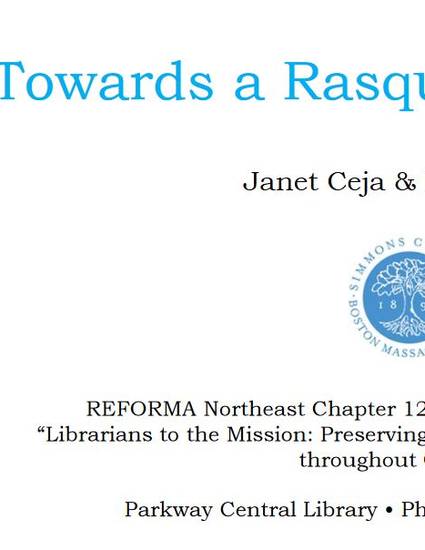 Presentation
Towards a Rasquache Archives
REFORMA Northeast Chapter 12th Annual Joint-Mini Conference "Librarians to the Mission: Preserving Cultural Heritage & World Traditions throughout Generations" (2016)
Abstract
This presentation will introduce an experimental archives project that seeks to document a small, rural community in Mexico and its diaspora in the United States. While focused on a specific community, this archives project has particular significance for librarians and archivists developing digital collections on Latin American populations. The digital documentary heritage of small, provincial communities in Latin America remains largely invisible within archives and libraries. This haunting invisibility, however, is harnessed as an epistemological pillar of the archives' mission, which is playfully based on rasquachismo. Scholar Tomas Ybarra-Frausto used the term rasquachismo to refer to as an aesthetic code and experience gained from living in a particular community in which making due with what you have is a sociocultural tenet. Instead of using the archives as a tool that houses persistent representations of a community, we use it as a tool that is meant to provide provisional and varying forms of access to cultural heritage artifacts. By using rasquachismo as an axiom for the design of the archives, we seek to motivate new archival traditions that place value on the living cultural identities of our communities and at the same time honor the volatility of our digital memories.
Keywords
Rasquache,
Archives,
Community Engagement,
Technology
Publication Date
Spring June 3, 2016
Location
Philadelphia, PA
Citation Information
Janet Ceja Alcalá and Desiree Alaniz. "Towards a Rasquache Archives"
REFORMA Northeast Chapter 12th Annual Joint-Mini Conference "Librarians to the Mission: Preserving Cultural Heritage & World Traditions throughout Generations"
(2016)
Available at: http://works.bepress.com/ceja/6/
Creative Commons License
This work is licensed under a Creative Commons CC_BY-NC-SA International License.