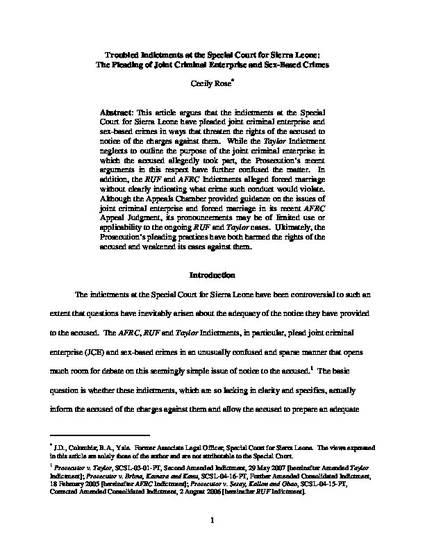 Unpublished Paper
Troubled Indictments at the Special Court for Sierra Leone: The Pleading of Joint Criminal Enterprise and Sex-Based Crimes
ExpressO (2008)
Abstract
This article argues that the indictments at the Special Court for Sierra Leone have pleaded joint criminal enterprise and sex-based crimes in ways that threaten the rights of the accused to notice of the charges against them. While the Taylor Indictment neglects to outline the purpose of the joint criminal enterprise in which the accused allegedly took part, the Prosecution's recent arguments in this respect have further confused the matter. In addition, the RUF and AFRC Indictments alleged forced marriage without clearly indicating what crime such conduct would violate. Although the Appeals Chamber provided guidance on the issues of joint criminal enterprise and forced marriage in its recent AFRC Appeal Judgment, its pronouncements may be of limited use or applicability to the ongoing RUF and Taylor cases. Ultimately, the Prosecution's pleading practices have both harmed the rights of the accused and weakened its cases against them.
Keywords
Special Court for Sierra Leone,
War Crimes,
Indictments
Publication Date
August 30, 2008
Citation Information
Cecily E. Rose. "Troubled Indictments at the Special Court for Sierra Leone: The Pleading of Joint Criminal Enterprise and Sex-Based Crimes"
ExpressO
(2008)
Available at: http://works.bepress.com/cecily_rose/1/