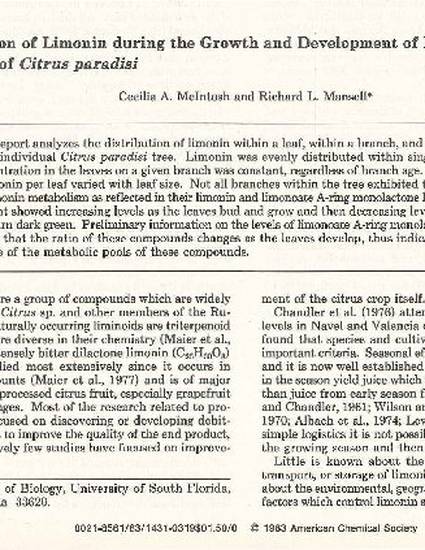 Article
Distribution of Limonin During the Growth and Development of Leaves and Branches of Citrus Paradisi
Journal of Agricultural and Food Chemistry (1983)
Abstract
This report analyzes the distribution of limonin within a leaf, within a branch, and between branches of an individual Citrus paradisi tree.  Limonin was evenly distributed within single leaves and the concentration in the leaves on a given branch was constant, regardless of branch age.  The total amount of limonin per leaf varied with leaf size.  Not all branches within the tree exhibited the same potential for limonin metabolism as reflected in their limonin and limonoate A-ring monolactone levels.  The limonin content showed increasing levels as the leaves bud and grow and then decreasing levels as they mature and turn dark green.  Preliminary information on the levles of limonoate A-ring monolactone and limonin shows that the ratio of these compounds changes as the leaves develop, thus indicating the dynamic nature of the metabolic pools of these compounds.
Keywords
limonin,
citrus paradisi tree,
branches,
leaves,
limonoate a-ring monolactone levels,
metabolic functions
Publication Date
March 1, 1983
Citation Information
Cecilia McIntosh and Richard L. Mansell. "Distribution of Limonin During the Growth and Development of Leaves and Branches of Citrus Paradisi"
Journal of Agricultural and Food Chemistry
Vol. 31 Iss. 2 (1983) p. 319 - 325 ISSN: 0021-8561
Available at: http://works.bepress.com/cecilia-mcintosh/27/