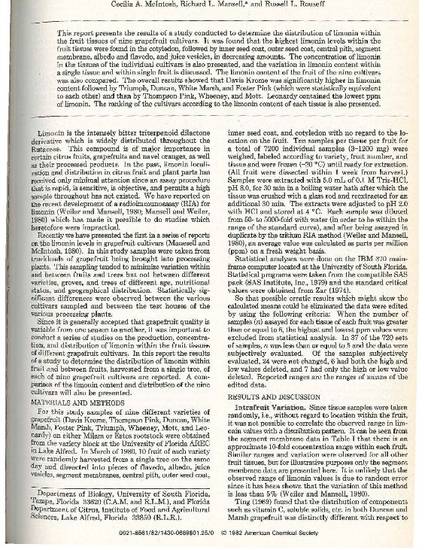 Article
Distribution of Limonin in the Fruit Tissues of Nine Grapefruit Cultivars
Journal of Agricultural and Food Chemistry (1982)
Abstract
This report presents the results of a study conducted to determine the distribution of limonin within the fruit tissues of nine grapefruit cultivars.  It was found that the highest limonin levels within the fruit tissues were found in the cotyledon, followed by inner seed coat, outer seed coat, central pith, segment membrane, albedo and flavedo, and juice vesicles, in decreasing amounds.  The concentration of limonin in the tissues of the individual cultivars is also presented, and the variation in limonin content within a single tissue and within single fruit is discussed.  The limonin content of the fruit of the nine cultivars was also compared.  The overall results showed that Davis Krome was significantly higher in limonin content followed by Triumph, Duncan, White Marsh, and Foster Pink (which were statistically equivalent to each other) and them by Thompson Pink, Wheeney, and Mott.  Leonardy contained the lowest ppm of limonin.  The ranking of the cultivars according to the limonin content of each tissue is also presented.
Keywords
distribution of limonin,
concentration of limonin,
fruit tissues,
grapefruit cultivars,
limonin content,
limonin levels
Publication Date
July 1, 1982
Citation Information
Cecilia McIntosh, Richard L. Mansell and Russell L. Rouseff. "Distribution of Limonin in the Fruit Tissues of Nine Grapefruit Cultivars"
Journal of Agricultural and Food Chemistry
Vol. 30 Iss. 4 (1982) p. 689 - 692 ISSN: 0021-8561
Available at: http://works.bepress.com/cecilia-mcintosh/25/