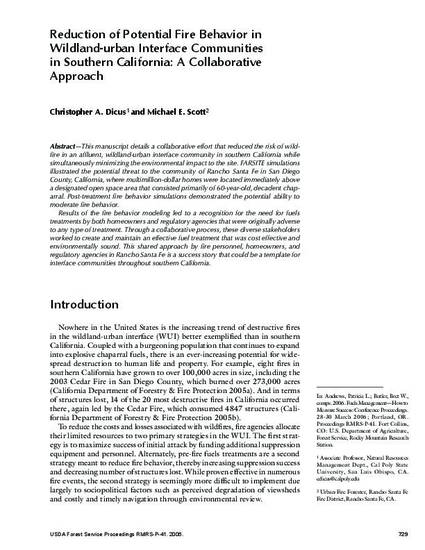 Article
Reduction of Potential Fire Behavior in Wildland-urban Interface Communities in Southern California: A Collaborative Approach
Proceedings RMRS-P-41
Publication Date
3-28-2006
Abstract
This manuscript details a collaborative effort that reduced the risk of wildfire in an affluent, wildland-urban interface community in southern California while simultaneously minimizing the environmental impact to the site. FARSITE simulations illustrated the potential threat to the community of Rancho Santa Fe in San Diego County, California, where multimillion-dollar homes were located immediately above a designated open space area that consisted primarily of 60-year-old, decadent chaparral. Post-treatment fire behavior simulations demonstrated the potential ability to moderate fire behavior. Results of the fire behavior modeling led to a recognition for the need for fuels treatments by both homeowners and regulatory agencies that were originally adverse to any type of treatment. Through a collaborative process, these diverse stakeholders worked to create and maintain an effective fuel treatment that was cost effective and environmentally sound. This shared approach by fire personnel, homeowners, and regulatory agencies in Rancho Santa Fe is a success story that could be a template for interface communities throughout southern California.
Citation Information
Christopher Dicus and Michael E. Scott. "Reduction of Potential Fire Behavior in Wildland-urban Interface Communities in Southern California: A Collaborative Approach"
Proceedings RMRS-P-41
(2006) p. 729 - 738
Available at: http://works.bepress.com/cdicus/13/