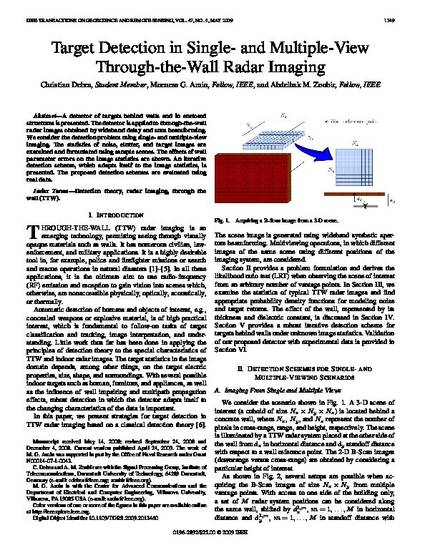 Article
Target detection in Single- and Multiple-View Through-the-Wall Radar Imaging
IEEE Transactions on Geoscience and Remote Sensing (2009)
Abstract
A detector of targets behind walls and in enclosed structures is presented. The detector is applied to through-the-wall radar images obtained by wideband delay and sum beamforming. We consider the detection problem using single- and multiple-view imaging. The statistics of noise, clutter, and target images are examined and formulated using sample scenes. The effects of wall parameter errors on the image statistics are shown. An iterative detection scheme, which adapts itself to the image statistics, is presented. The proposed detection schemes are evaluated using real data.
Keywords
Detection theory,
radar imaging,
through the wall (TTW)
Citation Information
Christian Debes, Moeness G Amin and Abdelhak M Zoubir. "Target detection in Single- and Multiple-View Through-the-Wall Radar Imaging"
IEEE Transactions on Geoscience and Remote Sensing
Vol. 47 Iss. 5 (2009)
Available at: http://works.bepress.com/cdebes/1/