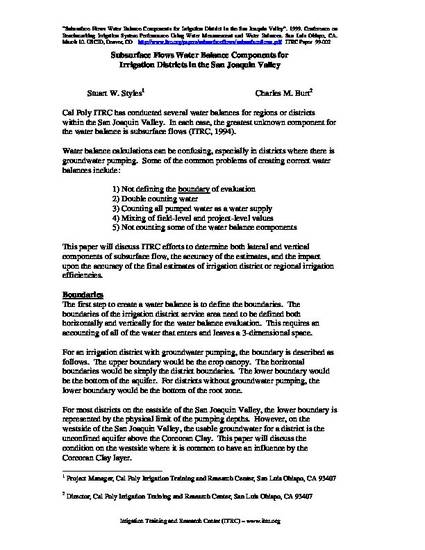 Article
Subsurface Flows Water Balance Components for Irrigation Districts in the San Joaquin Valley
Report No. P 99-002
Publication Date
3-10-1999
Abstract
Cal Poly ITRC has conducted several water balances for regions or districts within the San Joaquin Valley. In each case, the greatest unknown component for the water balance is subsurface flows (ITRC, 1994). Water balance calculations can be confusing, especially in districts where there is groundwater pumping. This paper will discuss ITRC efforts to determine both lateral and vertical components of subsurface flow, the accuracy of the estimates, and the impact upon the accuracy of the final estimates of irrigation district or regional irrigation efficiencies.
Citation Information
Stuart W. Styles and Charles M. Burt. "Subsurface Flows Water Balance Components for Irrigation Districts in the San Joaquin Valley"
Report No. P 99-002
(1999)
Available at: http://works.bepress.com/cburt/27/