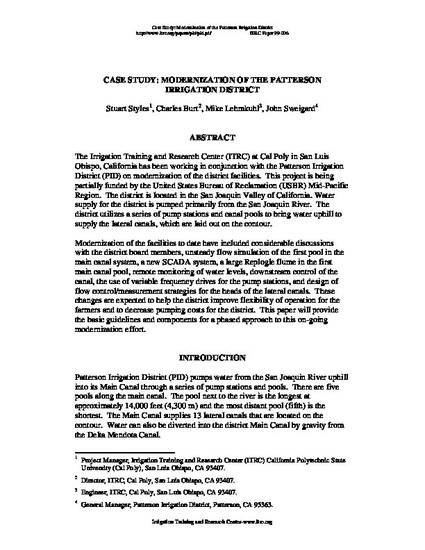 Article
Case Study: Modernization of the Patterson Irrigation District
USCID Workshop on Modernization of Irrigation Water Delivery Systems in Scottsdale, Arizona
Publication Date
10-17-1999
Abstract
The Irrigation Training and Research Center (ITRC) at Cal Poly in San Luis Obispo, California has been working in conjunction with the Patterson Irrigation District (PID) on modernization of the district facilities. This project is being partially funded by the United States Bureau of Reclamation (USBR) Mid-Pacific Region. The district is located in the San Joaquin Valley of California. Water supply for the district is pumped primarily from the San Joaquin River. The district utilizes a series of pump stations and canal pools to bring water uphill to supply the lateral canals, which are laid out on the contour. Modernization of the facilities to date have included considerable discussions with the district board members, unsteady flow simulation of the first pool in the main canal system, a new SCADA system, a large Replogle flume in the first main canal pool, remote monitoring of water levels, downstream control of the canal, the use of variable frequency drives for the pump stations, and design of flow control/measurement strategies for the heads of the lateral canals. These changes are expected to help the district improve flexibility of operation for the farmers and to decrease pumping costs for the district. This paper will provide the basic guidelines and components for a phased approach to this on-going modernization effort.
Citation Information
Stuart W. Styles, Charles M. Burt, Mike Lehmkuhl and John Sweigard. "Case Study: Modernization of the Patterson Irrigation District"
USCID Workshop on Modernization of Irrigation Water Delivery Systems in Scottsdale, Arizona
(1999)
Available at: http://works.bepress.com/cburt/26/