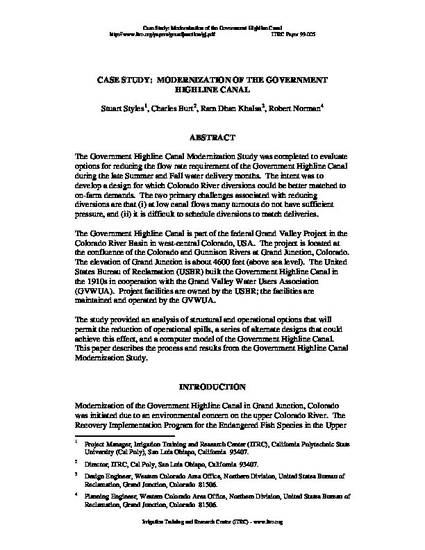 Article
Case Study: Modernization of the Government Highline Canal
USCID Workshop on Modernization of Irrigation Water Delivery Systems in Scottsdale, Arizona
Publication Date
10-17-1999
Abstract
The Government Highline Canal Modernization Study was completed to evaluate options for reducing the flow rate requirement of the Government Highline Canal during the late Summer and Fall water delivery months. The intent was to develop a design for which Colorado River diversions could be better matched to on-farm demands. The two primary challenges associated with reducing diversions are that (i) at low canal flows many turnouts do not have sufficient pressure, and (ii) it is difficult to schedule diversions to match deliveries. The Government Highline Canal is part of the federal Grand Valley Project in the Colorado River Basin in west-central Colorado, USA. The project is located at the confluence of the Colorado and Gunnison Rivers at Grand Junction, Colorado. The elevation of Grand Junction is about 4600 feet (above sea level). The United States Bureau of Reclamation (USBR) built the Government Highline Canal in the 1910s in cooperation with the Grand Valley Water Users Association (GVWUA). Project facilities are owned by the USBR; the facilities are maintained and operated by the GVWUA. The study provided an analysis of structural and operational options that will permit the reduction of operational spills, a series of alternate designs that could achieve this effect, and a computer model of the Government Highline Canal. This paper describes the process and results from the Government Highline Canal Modernization Study.
Citation Information
Stuart W. Styles, Charles M. Burt, Ram Dhan Khalsa and Robert Norman. "Case Study: Modernization of the Government Highline Canal"
USCID Workshop on Modernization of Irrigation Water Delivery Systems in Scottsdale, Arizona
(1999)
Available at: http://works.bepress.com/cburt/24/