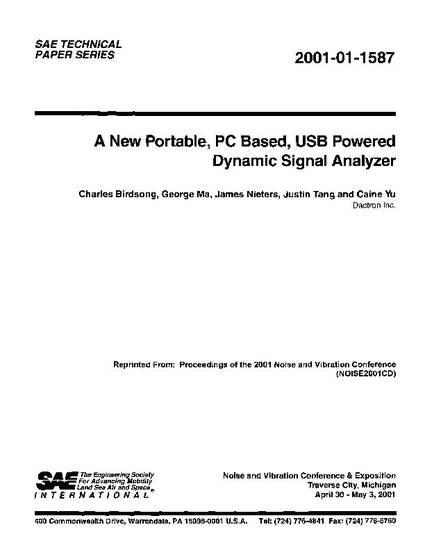 Presentation
A New Portable, PC Based, USB Powered Dynamic Signal Analyzer
Proceedings of the 2001 Noise and Vibration Conference
Publication Date
4-30-2001
Abstract
A new USB powered portable 4-channel real time Dynamic Signal Analyzer and its automotive applications are described. The design and architecture lend themselves to real time NVH measurements and analysis in the field, in-vehicle or on production lines. Built-in signal conditioning provides for direct sensor power while the embedded DSP provides for signal processing on-board. Performance and implementation of FFT, digital filters and order analyses are presented.
Citation Information
Charles Birdsong, George Ma, James Nieters, Justin Tang, et al.. "A New Portable, PC Based, USB Powered Dynamic Signal Analyzer"
Proceedings of the 2001 Noise and Vibration Conference
(2001)
Available at: http://works.bepress.com/cbirdson/11/