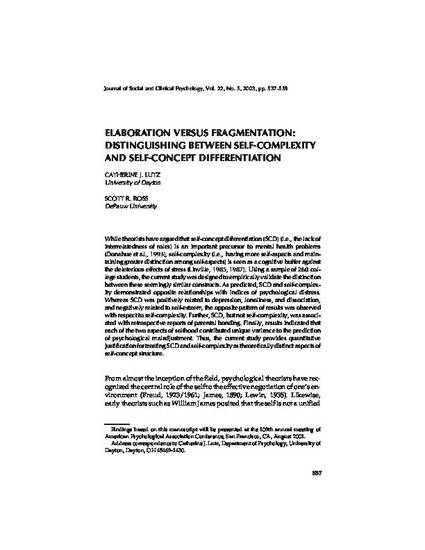 Article
Elaboration versus Fragmentation: Distinguishing between Self-Complexity and Self-Concept Differentiation
Journal of Social and Clinical Psychology
Publication Date
10-1-2003
Abstract
While theorists have argued that self-concept differentiation (SCD) (i.e., the lack of interrelatedness of roles) is an important precursor to mental health problems (Donahue et al., 1993), self-complexity (i.e., having more self-aspects and maintaining greater distinction among self-aspects) is seen as a cognitive buffer against the deleterious effects of stress (Linville, 1985, 1987). Using a sample of 260 college students, the current study was designed to empirically validate the distinction between these seemingly similar constructs. As predicted, SCD and self-complexity demonstrated opposite relationships with indices of psychological distress. Whereas SCD was positively related to depression, loneliness, and dissociation, and negatively related to self-esteem, the opposite pattern of results was observed with respect to self-complexity. Further, SCD, but not self-complexity, was associated with retrospective reports of parental bonding. Finally, results indicated that each of the two aspects of selfhood contributed unique variance to the prediction of psychological maladjustment. Thus, the current study provides quantitative justification for treating SCD and self-complexity as theoretically distinct aspects of self-concept structure.
Document Version
Published Version
Copyright
Copyright © 2014 The Guilford Press.
Citation Information
Catherine Lutz and Scott R. Ross. "Elaboration versus Fragmentation: Distinguishing between Self-Complexity and Self-Concept Differentiation"
Journal of Social and Clinical Psychology
Vol. 22 Iss. 5 (2003)
Available at: http://works.bepress.com/catherine_zois/2/