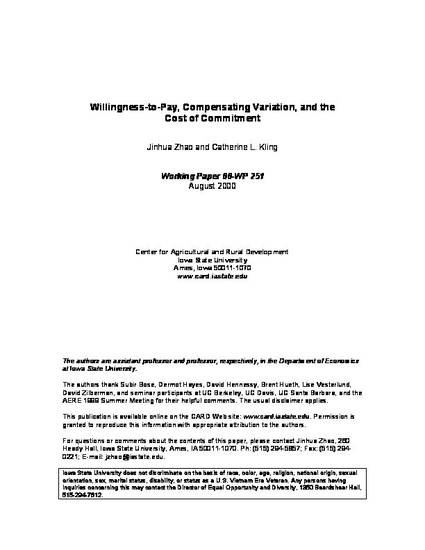 Article
Willingness-to-Pay, Compensating Variation, and the Cost of Commitment
Economic Inquiry
Publication Version
Submitted Manuscript
Publication Date
1-1-2004
Abstract
Hicksian welfare theory is static in nature, but many decisions are made in a dynamic environment. We present a dynamic model of an agent's decision to purchase or sell a good under the realistic conditions of uncertainty, irreversibility, and learning over time. Her willingness to pay (WTP) contains both the intrinsic value of the good as in Hicksian theory plus a commitment cost associated with delaying to obtain more information. The Hicksian equivalence between WTP/Willingness to accept (WTA) and compensating and equivalent variations no longer holds. The WTP and WTA divergence may arise and observed WTP values are not always appropriate for welfare analysis.
Citation Information
Jinhua Zhao and Catherine Kling. "Willingness-to-Pay, Compensating Variation, and the Cost of Commitment"
Economic Inquiry
Vol. 42 Iss. 3 (2004) p. 503 - 517
Available at: http://works.bepress.com/catherine_kling/81/