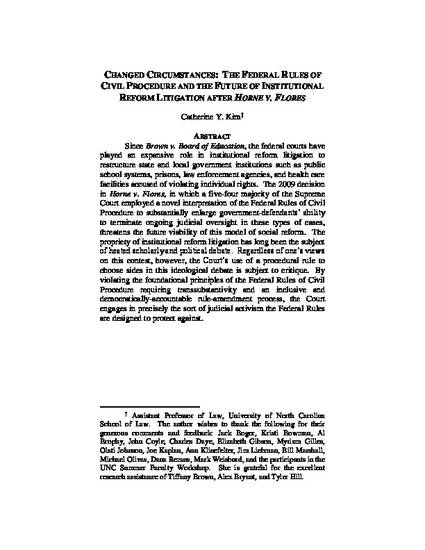 Unpublished Paper
Changed Circumstances: The Federal Rules of Civil Procedure and the Future of Institutional Reform Litigation After Horne v. Flores
ExpressO (2012)
Abstract
Since Brown v. Board of Education, the federal courts have played an expansive role in institutional reform litigation to restructure state and local government institutions such as public school systems, prisons, law enforcement agencies, and health care facilities accused of violating individual rights. The 2009 decision in Horne v. Flores, in which a five-four majority of the Supreme Court employed a novel interpretation of the Federal Rules of Civil Procedure to substantially enlarge government-defendants' ability to terminate ongoing judicial oversight in these types of cases, threatens the future viability of this model of social reform. The propriety of institutional reform litigation has long been the subject of heated scholarly and political debate. Regardless of one's views on this contest, however, the Court's use of a procedural rule to choose sides in this ideological debate is subject to critique. By violating the foundational principles of the Federal Rules of Civil Procedure requiring transsubstantivity and an inclusive and democratically-accountable rule-amendment process, the Court engages in precisely the sort of judicial activism the Federal Rules are designed to protect against.
Keywords
federal rules of civil procedure,
institutional reform litigation,
structural injunctions,
federal courts
Publication Date
August 15, 2012
Citation Information
Catherine Y Kim. "Changed Circumstances: The Federal Rules of Civil Procedure and the Future of Institutional Reform Litigation After Horne v. Flores"
ExpressO
(2012)
Available at: http://works.bepress.com/catherine_kim/1/