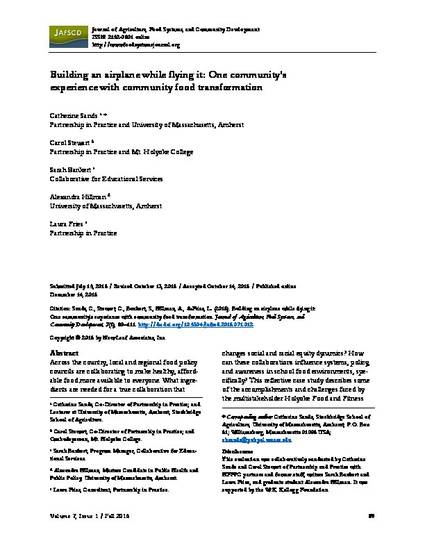 Article
Building an Airplane While Flying It: One Community's Experience with Community Food Transformation
Journal of Agriculture, Food Systems, and Community Development (2016)
Abstract
Across the country, local and regional food policy councils are collaborating to make healthy, affordable food more available to everyone. What ingredients are needed for a true collaboration that changes social and racial equity dynamics? How can these collaborations influence systems, policy, and awareness in school food environments, specifically? This reflective case study describes some of the accomplishments and challenges faced by the multistakeholder Holyoke Food and Fitness Policy Council (HFFPC) for nearly a decade. Using a mixed-method participatory evaluation approach to lift up diverse partners' insights, we conducted key informant interviews with people who were engaged with the project during its eight operating years; focus groups and participatory asset mapping with stakeholders; and reviewed meeting notes from the eight years of the HFFPC. We identify several crucial ingredients that sustain equitable community-based collaboration: changing the dominant narrative, community and youth leadership and advocacy, and aligned multistakeholder partnerships. We also discuss critical structural and values-based challenges to multistakeholder organizing, including issues of trust, transparency, resources, leadership development, and differences in perceptions of racial equity in an underresourced, predominantly Latino community. As such, this case study investigates community engagement and effectiveness. It provides insights for those food policy councils and local coalitions endeavoring to build from within the community while accomplishing policy goals, and will help to further the practice of equity, community food policy and systems change, and governance.
Keywords
Food Policy Council,
Farm to School,
School Food,
Community Engagement,
Food Justice,
Youth Engagement,
Community Based Participatory Evaluation
DOI
https://doi.org/10.5304/jafscd.2016.071.012
Citation Information
Sands, C., Stewart, C., Bankert, S., Hillman, A., & Fries, L. (2016). Building an Airplane While Flying It: One Community's Experience with Community Food Transformation. Journal of Agriculture, Food Systems, and Community Development, 7(1), 89-111. https://doi.org/10.5304/jafscd.2016.071.012
Creative Commons license
This work is licensed under a Creative Commons CC_BY International License.