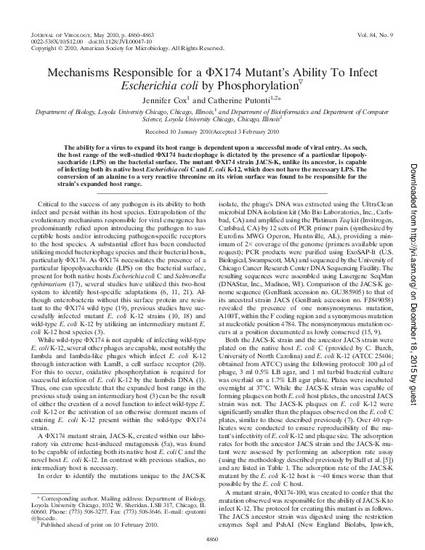 Article
Mechanisms Responsible for a ΦX174 Mutant's Ability To Infect Escherichia coli by Phosphorylation
Journal of Virology
Publication Date
1-1-2010
Abstract
The ability for a virus to expand its host range is dependent upon a successful mode of viral entry. As such, the host range of the well-studied ΦX174 bacteriophage is dictated by the presence of a particular lipopolysaccharide (LPS) on the bacterial surface. The mutant ΦX174 strain JACS-K, unlike its ancestor, is capable of infecting both its native host Escherichia coli C and E. coli K-12, which does not have the necessary LPS. The conversion of an alanine to a very reactive threonine on its virion surface was found to be responsible for the strain's expanded host range.
Creative Commons License
Creative Commons Attribution-Noncommercial-No Derivative Works 3.0
Copyright Statement
© American Society for Microbiology, 2010.
Citation Information
Cox, J and C Putonti. "Mechanisms Responsible for a ΦX174 Mutant's Ability To Infect Escherichia coli by Phosphorylation." Journal of Virology 84(9), 2010.