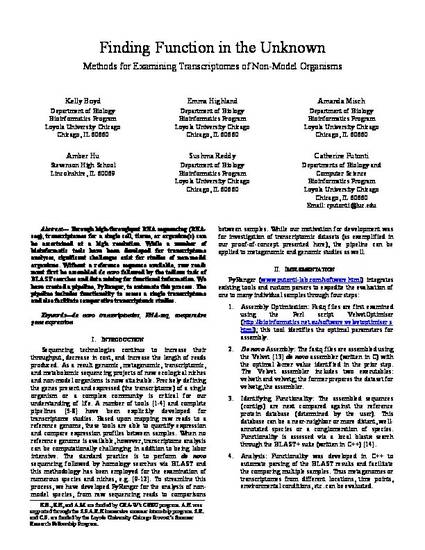 Article
Finding Function in the Unknown
Proceedings of the 2015 IEEE International Conference on Bioinformatics and Biomedicine (BIBM)
Document Type
Conference Proceeding
Publication Date
12-17-2015
Abstract
Through high-throughput RNA sequencing (RNAseq), transcriptomes for a single cell, tissue, or organism(s) can be ascertained at a high resolution. While a number of bioinformatic tools have been developed for transcriptome analyses, significant challenges exist for studies of non-model organisms. Without a reference sequence available, raw reads must first be assembled de novo followed by the tedious task of BLAST searches and data mining for functional information. We have created a pipeline, PyRanger, to automate this process. The pipeline includes functionality to assess a single transcriptome and also facilitate comparative transcriptomic studies.
Identifier
10.1109/BIBM.2015.7359834
Creative Commons License
Creative Commons Attribution-Noncommercial-No Derivative Works 3.0
Copyright Statement
© IEEE, 2015.
Citation Information
Kelly Boyd, Emma Highland, Amanda Misch, Amber Hu, et al.. "Finding Function in the Unknown"
Proceedings of the 2015 IEEE International Conference on Bioinformatics and Biomedicine (BIBM)
(2015)
Available at: http://works.bepress.com/catherine-putonti/18/