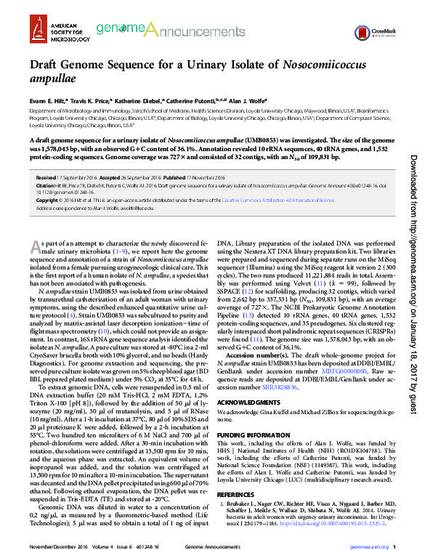 Article
Draft Genome Sequence for a Urinary Isolate of Nosocomiicoccus Ampullae
Genome Announcements
Publication Date
11-17-2016
Publisher Name
American Society for Microbiology
Publisher Location
Washington, D.C.
Abstract
A draft genome sequence for a urinary isolate of Nosocomiicoccus ampullae (UMB0853) was investigated. The size of the genome was 1,578,043 bp, with an observed G+C content of 36.1%. Annotation revealed 10 rRNA sequences, 40 tRNA genes, and 1,532 protein-coding sequences. Genome coverage was 727× and consisted of 32 contigs, with an N50 of 109,831 bp.
Identifier
10.1128/genomeA.01248-16
Creative Commons License
Creative Commons Attribution 4.0
Copyright Statement
© 2016 Hilt et al. This is an open-access article distributed under the terms of the Creative Commons Attribution 4.0 International license.
Citation Information
Evann Elizabeth Hilt, Travis Kyle Price, Katherine Diebel, Catherine Putonti, et al.. "Draft Genome Sequence for a Urinary Isolate of Nosocomiicoccus Ampullae"
Genome Announcements
Vol. 4 Iss. 6 (2016)
Available at: http://works.bepress.com/catherine-putonti/14/