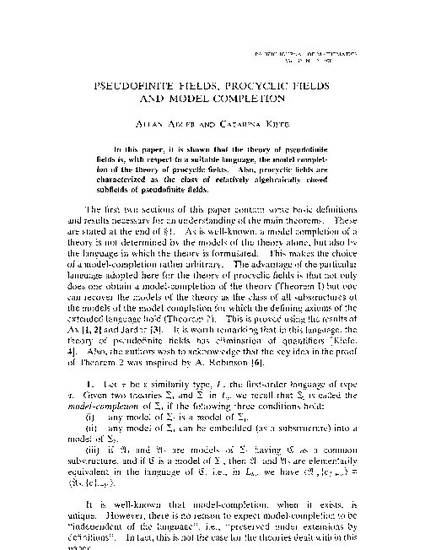 Article
Pseudodefinite Fields, Procyclic Fields and Model-Completion
Quantitative Health Sciences Publications and Presentations
UMMS Affiliation
Department of Quantitative Health Sciences
Medical Subject Headings
Mathematical Concepts; Models, Theoretical
Abstract
In this paper, it is shown that the theory of pseudofinite fields is, with respect to a suitable language, the model completion of the theory of procyclic fields. Also, procyclic fields are characterized as the class of relatively algebraically closed subfields of pseudofinite fields.
Rights and Permissions
Citation: Kiefe C and Adler A. Pseudofinite fields, procyclic fields and model-completion. Pacific Journal of Mathematics. 62:305-309, 1976.
Link to article on publisher's website
Citation Information
Allan Adler and Catarina I. Kiefe. "Pseudodefinite Fields, Procyclic Fields and Model-Completion" Vol. 62 Iss. 2 (1976)
Available at: http://works.bepress.com/catarina_kiefe/5/