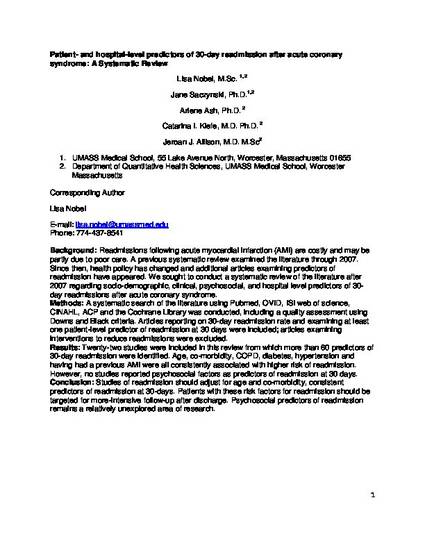 Presentation
Patient- and Hospital-level Predictors of 30-day Readmission after Acute Coronary Syndrome: A Systematic Review
UMass Center for Clinical and Translational Science Research Retreat
Document Type
Poster Abstract
Description
Background: Readmissions following acute myocardial infarction (AMI) are costly and may be partly due to poor care. A previous systematic review examined the literature through 2007. Since then, health policy has changed and additional articles examining predictors of readmission have appeared. We sought to conduct a systematic review of the literature after 2007 regarding socio-demographic, clinical, psychosocial, and hospital level predictors of 30-day readmissions after acute coronary syndrome.
Methods: A systematic search of the literature using Pubmed, OVID, ISI web of science, CINAHL, ACP and the Cochrane Library was conducted, including a quality assessment using Downs and Black criteria. Articles reporting on 30-day readmission rate and examining at least one patient-level predictor of readmission at 30 days were included; articles examining interventions to reduce readmissions were excluded.
Results: Twenty-two studies were included in this review from which more than 60 predictors of 30-day readmission were identified. Age, co-morbidity, COPD, diabetes, hypertension and having had a previous AMI were all consistently associated with higher risk of readmission. However, no studies reported psychosocial factors as predictors of readmission at 30 days.
Conclusion: Studies of readmission should adjust for age and co-morbidity, consistent predictors of readmission at 30-days. Patients with these risk factors for readmission should be targeted for more-intensive follow-up after discharge. Psychosocial predictors of readmission remains a relatively unexplored area of research.
Creative Commons License
Creative Commons Attribution-Noncommercial-Share Alike 3.0
Citation Information
Lisa Nobel, Jane S. Saczynski, Arlene S. Ash, Catarina I. Kiefe, et al.. "Patient- and Hospital-level Predictors of 30-day Readmission after Acute Coronary Syndrome: A Systematic Review" (2014)
Available at: http://works.bepress.com/catarina_kiefe/225/