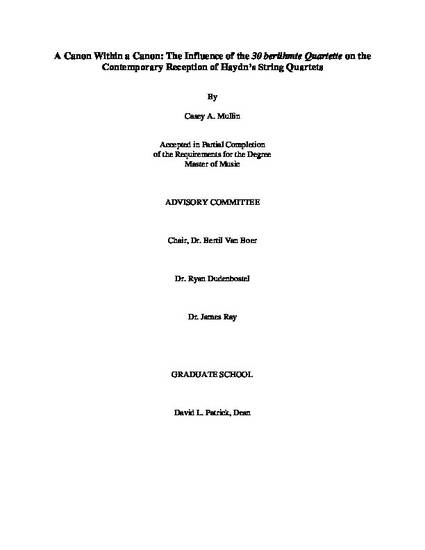 Thesis
A Canon Within a Canon: The Influence of the 30 berühmte Quartette on the Contemporary Reception of Haydn's String Quartets
WWU Graduate School Collection
Date Permissions Signed
5-2-2022
Document Type
Masters Thesis
Department or Program Affiliation
Music
Degree Name
Master of Music (MMus)
First Advisor
Van Boer, Bertil H.
Second Advisor
Dudenbostel, Ryan
Abstract
The 68 quartets of Joseph Haydn form a corpus that is large enough that few performers and listeners are likely to become equally familiar with all of them, yet foundational enough to the quartet repertory that all are certainly worthy of some amount of performance and appreciation. Unlike the quartets of Beethoven and Shostakovich (bodies of work small enough to be programmed and recorded as a block) or Mozart, Schubert and Dvořák (where the chronologically latest are generally the ones favored), Haydn's 68 don't cohere or break out as cleanly in terms of popularity, despite their extensively studied stylistic evolution and well-documented chronology. Upon closer examination, however, the publication history of the quartets offers a significant clue to ascertaining their relative popularity. The anthology known variously as Thirty Celebrated Quartets or 30 berühmte Quartette first appeared in print in 1918 to the editorial credit of Andreas Moser and Hugo Dechert, and has, through numerous republications, become the ubiquitous set of parts to inhabit the music stands of quartet players of all backgrounds. Part 1 outlines the publication history of Haydn's string quartets, places this anthology in context thereof, and attempts to (at least partially) account for the choice of contents therein. Part 2 employs a discometric approach to assessing the impact that this anthology has had on contemporary reception of "Papa" Haydn's legacy. As this discographic analysis will demonstrate, in the eyes of performing groups, record companies and the listening public alike, not all Haydn quartets are created equal. By shining scholarly light on this differential reception that some Haydn enthusiasts might take for granted, the broader objective is to challenge the canon-perpetuating forces that ultimately do not serve to advance our collective appreciation of this master's work, and of the medium with which he is inextricably linked.
Publisher
Western Washington University
Subjects – Names (LCNAF)
Haydn, Joseph, 1732-1809. Quartets, violins (2), viola, cello; Haydn, Joseph, 1732-1809. Appreciation; Haydn, Joseph, 1732-1809. Discography
Subject – LCSH
String quartets--Discography
Genre/Form
masters theses
Rights
Copying of this document in whole or in part is allowable only for scholarly purposes. It is understood, however, that any copying or publication of this document for commercial purposes, or for financial gain, shall not be allowed without the author's written permission.
Citation Information
Casey Mullin. "A Canon Within a Canon: The Influence of the 30 berühmte Quartette on the Contemporary Reception of Haydn's String Quartets" (2022)
Available at: http://works.bepress.com/casey-mullin/22/