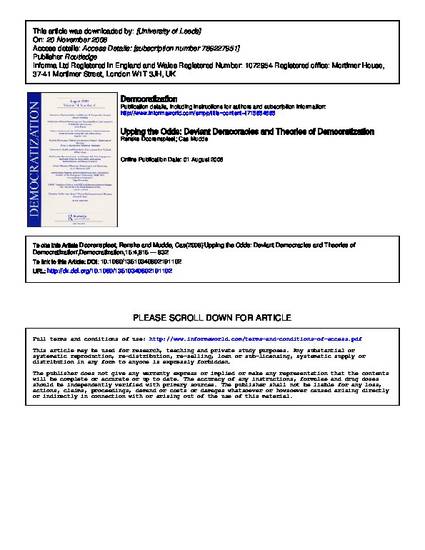 Article
Upping the Odds: Deviant Democracies and Theories of Democratization
Democratization (2008)
Abstract
This concluding article tries to integrate the different insights of the individual case studies of this special issue into some comparative observations. The findings are related to debates and findings of the broader literature on democratization, with the aim of generating new insights that might help develop new studies on the topic. Importantly, our suggestions are to be considered as hypotheses complementary to the two dominant theories of democratization, rather than opposite to them, accepting both their key assumptions and stipulations. More specifically, two aspects of key concern to the study of democratization are discussed in more detail: the phasing of the process of democratization and the ambiguity of the process(es) of diffusion. We argue and show that, while accepting that the different phases of the process of democratization might overlap in practice, the analytical distinction of democratic transition and consolidation provide clearer insights into the factors affecting processes of democratization. We also emphasize the importance of processes of diffusion in explaining (the different phases of) democratization, but at the same time analyse the current conceptual, methodological and theoretical problems involved in diffusion theory.
Keywords
Democratization,
Diffusion,
Transition,
Consolidation
Citation Information
Renske Doorenspleet and Cas Mudde. "Upping the Odds: Deviant Democracies and Theories of Democratization"
Democratization
Vol. 15 Iss. 4 (2008)
Available at: http://works.bepress.com/cas_mudde/12/