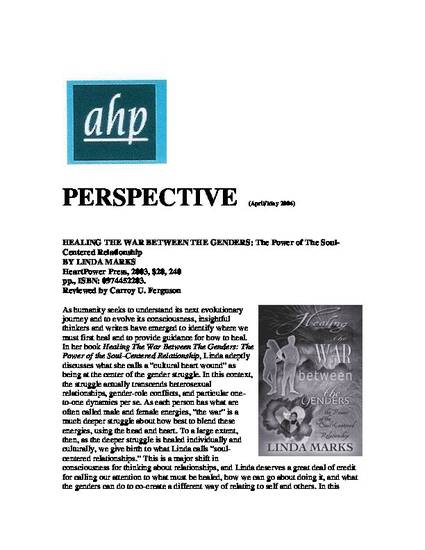 Article
Healing The War Between The Genders: The Power Of The Soul-Centered Relationship (book author, Linda Marks; book reviewer, Carroy Ferguson)
AHP Perspective (2004)
Abstract
As humanity seeks to understand its next evolutionary journey and to evolve its consciousness, insightful thinkers and writers have emerged to identify where we must first heal and to provide guidance for how to heal. In her book Healing The War Between The Genders: The Power of the Soul-Centered Relationship, Linda Marks adeptly discusses what she calls a "cultural heart wound" as being at the center of the gender struggle. In this context, the struggle actually transcends heterosexual relationships, gender-role conflicts, and particular one-to-one dynamics per se. As each person has what are often called male and female energies, "the war" is a much deeper struggle about how best to blend these energies, using the head and heart. To a large extent, then, as the deeper struggle is healed individually and culturally, we give birth to what Linda calls "soul-centered relationships." This is a major shift in consciousness for thinking about relationships, and Linda deserves a great deal of credit for calling our attention to what must be healed, how we can go about doing it, and what the genders can do to co-create a different way of relating to self and others. In this regard, Linda provides the reader with excellent frameworks for thinking about co-creating soul-centered relationships.
Keywords
Consciousness; Empowerment; Politics; Perspectives; Paradigm; Emotions; Beliefs
Publication Date
Spring May, 2004
Citation Information
Carroy U Ferguson. "Healing The War Between The Genders: The Power Of The Soul-Centered Relationship (book author, Linda Marks; book reviewer, Carroy Ferguson)"
AHP Perspective
(2004)
Available at: http://works.bepress.com/carroy_ferguson/35/