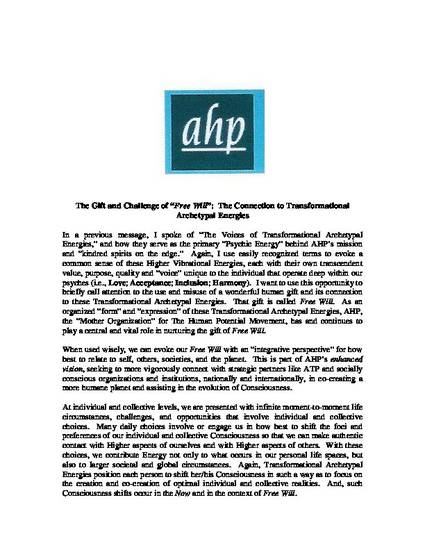 Article
The Gift and Challenge of "Free Will": The Connection to Transformational Archetypal Energies
AHP Perspective (2007)
Abstract
In a previous writing, I spoke of "The Voices of Transformational Archetypal Energies," and how they serve as the primary "Psychic Energy" behind AHP's mission and "kindred spirits on the edge." Again, I use easily recognized terms to evoke a common sense of these Higher Vibrational Energies, each with their own transcendent value, purpose, quality and "voice" unique to the individual that operate deep within our psyches (i.e., Love; Acceptance; Inclusion; Harmony). I want to use this opportunity to briefly call attention to the use and misuse of a wonderful human gift and its connection to these Transformational Archetypal Energies. That gift is called Free Will. As an organized "form" and "expression" of these Transformational Archetypal Energies, AHP, the "Mother Organization" for The Human Potential Movement, has and continues to play a central and vital role in nurturing the gift of Free Will.
Keywords
Consciousness; Empowerment; Politics; Perspectives; Paradigm; Emotions; Beliefs; Psychology; Philosophy
Publication Date
Fall September, 2007
Citation Information
carroy u ferguson. "The Gift and Challenge of "Free Will": The Connection to Transformational Archetypal Energies"
AHP Perspective
(2007)
Available at: http://works.bepress.com/carroy_ferguson/20/