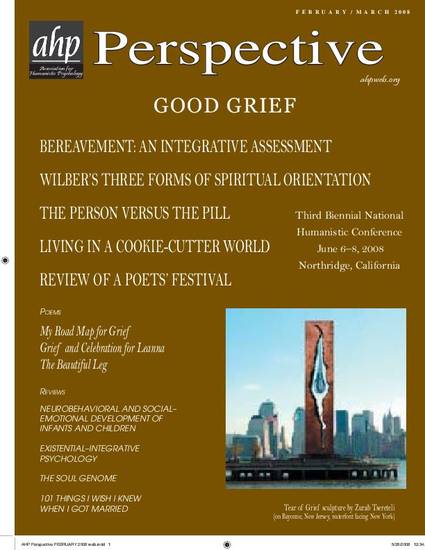 Article
Vision For "A New Human Being" and A "Human Synergistic Movement": A New Humanistic Movement Aligned with Transformational Archetypal Energies
AHP Perspective (2008)
Abstract
In previous writings, I spoke of the "Path of the Bridger: AHP's Role in Co-Creating a New Reality for Human Togetherness and the Evolution of Consciousness," "The Voices of Transformational Archetypal Energies: The Psychic Energy behind AHP's Mission," and "The Gift and Challenge of 'Free Will': The Connection to Transformational Archetypal Energies." I wanted to remind us of how and why AHP came into being as a "Mother Organization," arguably to give birth to an organized focus on validating the dignity of the Human Spirit, maximizing Human Potential, and planting seeds for Well Being and the Evolution of Consciousness. In the wake of this organized focus, the Human Potential Movement emerged, along with a new field of psychology and research, numerous authors, practitioners, speakers, and like-minded organizations over the years. Some have often forgotten about their origins. It is now time for AHP to reclaim its place as "Mother" and to give birth to a new organized focus on evolving a New Human Being and what I will call a Human Synergistic Movement.
Keywords
Consciousness; Empowerment; Politics; Perspectives; Paradigm; Emotions; Beliefs,
Psychology,
Philosophy
Publication Date
Spring March, 2008
Citation Information
carroy u ferguson. "Vision For "A New Human Being" and A "Human Synergistic Movement": A New Humanistic Movement Aligned with Transformational Archetypal Energies"
AHP Perspective
(2008)
Available at: http://works.bepress.com/carroy_ferguson/19/