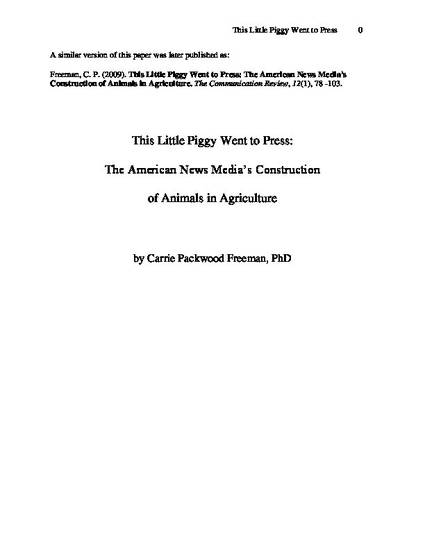 Article
This Little Piggy Went to Press: The American News Media's Construction of Animals in Agriculture
Communication Faculty Publications
Publication Date
1-1-2009
Abstract
This textual analysis examines the representations of farmed animals in national print and broadcast news discourse in over 100 stories published from 2000-2003. Findings show these American news media largely support the speciesist status quo by favoring elite viewpoints and failing to provide balance. Although exceptions are provided, news media often objectify nonhuman animals discursively through: 1) commodification, 2) failure to acknowledge their emotional perspectives, and 3) failure to describe them as inherently-valuable individuals.
Citation Information
Freeman, C. P. (2009). This little piggy went to press: The American news media's construction of animals in agriculture.
The Communication Review, 12
(1), 78-103. doi:10.1080/10714420902717764