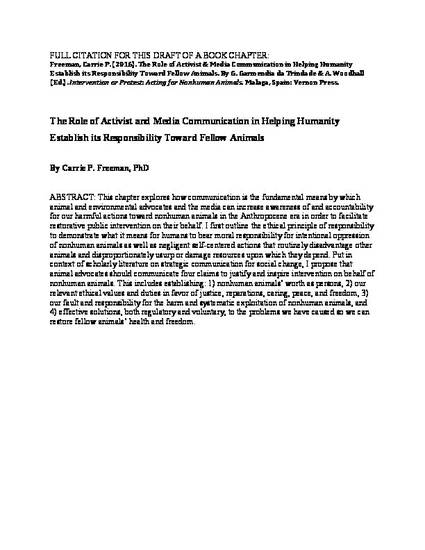 Contribution to Book
The Role of Activist & Media Communication in Helping Humanity Establish its Responsibility Toward Fellow Animals
Intervention or Protest: Acting for Nonhuman Animals (2016)
Abstract
This chapter explores how communication is the fundamental means by which animal and environmental advocates and the media can increase awareness of and accountability for our harmful actions toward nonhuman animals in the Anthropocene era in order to facilitate restorative public intervention on their behalf. I first outline the ethical principle of responsibility to demonstrate what it means for humans to bear moral responsibility for intentional oppression of nonhuman animals as well as negligent self-centered actions that routinely disadvantage other animals and disproportionately usurp or damage resources upon which they depend. Put in context of scholarly literature on strategic communication for social change, I propose that animal advocates should communicate four claims to justify and inspire intervention on behalf of nonhuman animals. This includes establishing: 1) nonhuman animals' worth as persons, 2) our relevant ethical values and duties in favor of justice, reparations, caring, peace, and freedom, 3) our fault and responsibility for the harm and systematic exploitation of nonhuman animals, and 4) effective solutions, both regulatory and voluntary, to the problems we have caused so we can restore fellow animals' health and freedom.
Keywords
intervention; responsibility; animal protection; animal rights; activism
Publication Date
Fall 2016
Editor
G. Garmendia da Trindade & A. Woodhall
Citation Information
Freeman, C. P. (2016). The Role of Activist & Media Communication in Helping Humanity Establish its Responsibility Toward Fellow Animals. By G. Garmendia da Trindade & A. Woodhall (Ed.). Intervention or Protest: Acting for Nonhuman Animals. Malaga, Spain: Vernon Press.