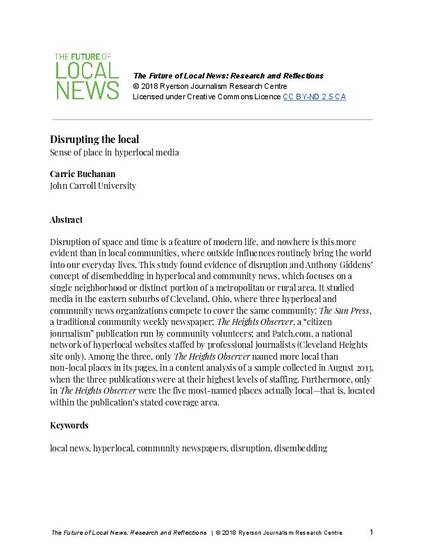 Article
Disrupting the local: Sense of place in hyperlocal media
The Future of Local News: Research and Reflections (2018)
Abstract
Disruption of space and time is a feature of modern life, and nowhere is this more evident than in local communities, where outside influences routinely bring the world into our everyday lives. This study found evidence of disruption and Anthony Giddens'
concept of disembedding in hyperlocal and community news, which focuses on a single neighborhood or distinct portion of a metropolitan or rural area. It studied media in the eastern suburbs of Cleveland, Ohio, where three hyperlocal and
community news organizations compete to cover the same community: The Sun Press, a traditional community weekly newspaper; The Heights Observer, a "citizen journalism" publication run by community volunteers; and Patch.com, a national network of hyperlocal websites staffed by professional journalists (Cleveland Heights site only). Among the three, only The Heights Observer named more local than non-local places in its pages, in a content analysis of a sample collected in August 2013, when the three publications were at their highest levels of staffing. Furthermore, only in The Heights Observer were the five most-named places actually local—that is, located within the publication's stated coverage area.
Keywords
local news,
hyperlocal,
community newspapers,
disruption,
disembedding
Citation Information
Available at http://futureoflocalnews.org
Creative Commons license
This work is licensed under a Creative Commons CC_BY International License.