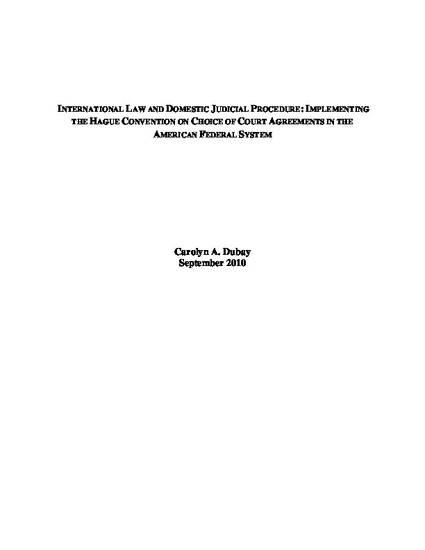 Unpublished Paper
International Law and Domestic Judicial Procedure: Implementing the Hague Convention on Choice of Court Agreements in the American Federal System
ExpressO (2010)
Abstract
In 2009, the United States became a signatory to the Convention on Choice of Court Agreements (COCCA), drafted under the auspices of the Hague Conference on Private International Law. The stated objective of the Convention was to "promote international trade and investment through enhanced judicial co-operation." Despite these broad goals, COCCA is narrowly drawn to relate only to international commercial disputes subject to a negotiated choice of court agreement. With respect to forum selection clauses in international business-to-business contracts, COCCA creates uniform procedural rules for the enforcement of such clauses in both the courts designated in such clauses ("chosen courts"), and for "non-chosen courts" in the event the plaintiff files a complaint in violation of the choice of court agreement. This article focuses on the thorny issue of implementing the procedural rules mandated under the Convention in federal and state courts, including mandating the exercise of personal jurisdiction by chosen courts and restricting the chosen court's ability to dismiss cases on the grounds of forum non conveniens.
While at first blush implementation of COCCA's procedural rules with respect to the enforcement of forum selection clauses may seem uncontroversial, in the American federal system, with its principle of dual sovereignty, the independence of state and federal courts, and the limited powers of Congress vis-à-vis the states, implementation poses difficult questions of state sovereignty, judicial autonomy, and congressional authority. Meaningful debate on these difficult questions is in turn obfuscated in a political climate hostile to broad federal legislation to implement international obligations at the expense of states' rights. To implement COCCA's provisions on the enforcement of forum selection clauses in the United States, therefore, drafters need to consider carefully language that will achieve COCCA's goals while at the same time balancing the competing concerns of state autonomy and control over state judicial systems and state law, and federal supremacy over matters of international commerce and foreign relations.
This article concludes that despite political barriers to a federal approach, the best route to implementing COCCA's provisions as to chosen courts would be to develop a comprehensive federal scheme that includes not only procedural provisions, but substantive rules of decision to apply when federal or state courts interpret forum selection clauses subject to COCCA. By developing comprehensive federal rules on interpretation, personal jurisdiction, forum non conveniens, subject matter jurisdiction, and removal, drafters can implement a scheme that gives guidance to federal and state courts alike, resolves the current conflict among the courts as to whether interpretation of forum selection clauses raises procedural or substantive legal questions, and creates uniformity in application of the Convention (one of the primary goals of entering the Convention in the first instance). While developing such a federal statutory scheme is desirable, this article also addresses the significant federalism problems that may arise in the implementation process, especially as implementation impacts the autonomy of state court procedures and jurisdiction.
Keywords
Hague Convention on Choice of Court Agreements
Publication Date
September 28, 2010
Citation Information
Carolyn Dubay. "International Law and Domestic Judicial Procedure: Implementing the Hague Convention on Choice of Court Agreements in the American Federal System"
ExpressO
(2010)
Available at: http://works.bepress.com/carolyn_dubay/1/