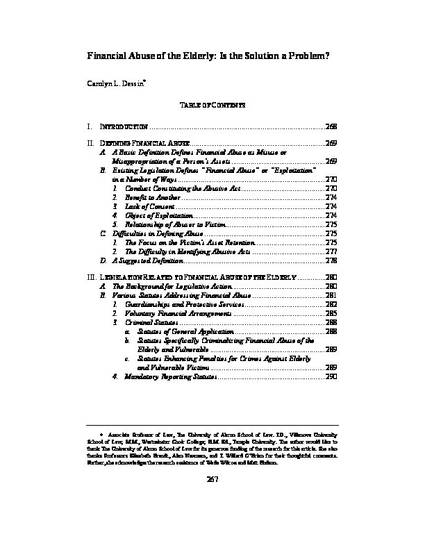 Article
Financial Abuse of the Elderly: Is the Solution a Problem?
McGeorge Law Review (2003)
Abstract
As a population, we are aging rapidly. With this phenomenon has come an increasing interest in the problems of older Americans. Early studies of elder abuse in the 1970s began a dialogue that continues with increasing vitality. This dialogue has prompted states to attempt to prevent, remedy, and punish elder abuse in a variety of ways.
Although all of the early studies and most of the current studies focus on physical and psychological abuse of the elderly, there is a growing appreciation that financial abuse is a serious problem. Accordingly, many states have attempted to remedy financial abuse, often called "exploitation," as part of a statutory framework designed to improve the living conditions of older citizens.
This article will discuss the often vague definition of financial abuse with a goal of suggesting a more workable definition of the problem. It will then examine the various statutes directed at financial abuse of the elderly and the case law interpreting those statutes. Finally, it will examine the weaknesses of many states' approaches and suggest a model for addressing abuse that is both effective and free of ageist stereotyping.
Citation Information
Carolyn L. Dessin,
Financial Abuse of the Elderly: Is the Solution a Problem
?, 34
McGeorge Law Review
267 (2003).