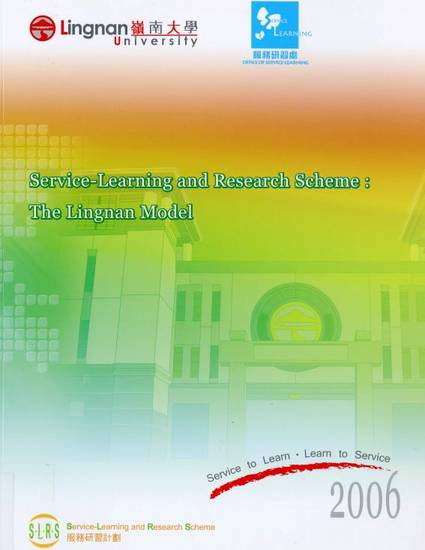 Book
Service-learning and research scheme : the Lingnan model
(2006)
Abstract
This Manual is a product of Lingnan University's pilot SLRS. It aims to provide a framework for interested parties to organize or refine a range of Service-Learning Programs and to develop a comprehensive set of validating instruments that can be used to assess the effectiveness of the SLRS from the varying perspectives of students, course instructors, social service agency supervisors and program coordinators. The specific objectives of this Manual are: (i) To provide useful reference information on Service-Learning to interested parties at Lingnan University and other tertiary institutions. (ii) To provide definitions of the structures, contents and processes of the Lingnan model of Service-Learning (SLRS) and guidance to support implementation. (iii) To provide a set of validation instruments, as developed by Lingnan, for evaluating the effectiveness of the SLRS from the perspective of participants. (iv) To share the summary results of the evaluation of Lingnan's SLRS pilot. This is the first manual of its kind for running a Service-Learning scheme with the unique characteristics of liberal arts education in Hong Kong.
Publication Date
January 1, 2006
Publisher
Office of Service-Learning, Lingnan University
Citation Information
Chan, C. M. A., Ma, H. K. C., & Fong, F. M. S. (2006). Service learning and research scheme: The Lingnan model. Hong Kong: Office of Service Learning, Lingnan University.