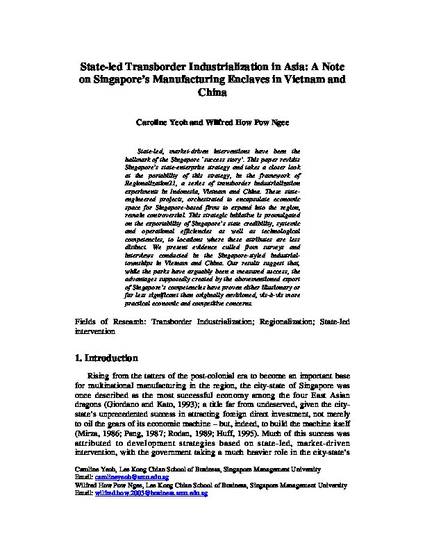 Article
State-Led Transborder Industrialization in Asia: A Note on Singapore's Manufacturing Enclaves in Vietnam and China
International Review of Business Research Papers
Publication Type
Journal Article
Abstract
State-led, market-driven interventions have been the hallmark of the Singapore `success storyÆ. This paper revisits SingaporeÆs state-enterprise strategy and takes a closer look at the portability of this strategy, in the framework of Regionalization21, a series of transborder industrialization experiments in Indonesia, Vietnam and China. These state-engineered projects, orchestrated to encapsulate economic space for Singapore-based firms to expand into the region, remain controversial. This strategic initiative is promulgated on the exportability of SingaporeÆs state credibility, systemic and operational efficiencies as well as technological competencies, to locations where these attributes are less distinct. We present evidence culled from surveys and interviews conducted in the Singapore-styled industrial-townships in Vietnam and China. Our results suggest that, while the parks have arguably been a measured success, the advantages supposedly created by the abovementioned export of SingaporeÆs competencies have proven either illusionary or far less significant than originally envisioned, vis-α-vis more practical economic and competitive concerns.
Publisher
World Business Institute
Creative Commons License
Creative Commons Attribution-Noncommercial-No Derivative Works 4.0
Additional URL
http://www.bizresearchpapers.com/Yeoh.pdf
Citation Information
Caroline YEOH and Wilfred Pow Ngee HOW. "State-Led Transborder Industrialization in Asia: A Note on Singapore's Manufacturing Enclaves in Vietnam and China"
International Review of Business Research Papers
Vol. 3 Iss. 5 (2007) p. 456 - 471 ISSN: 1837-5685
Available at: http://works.bepress.com/caroline_yeoh/27/