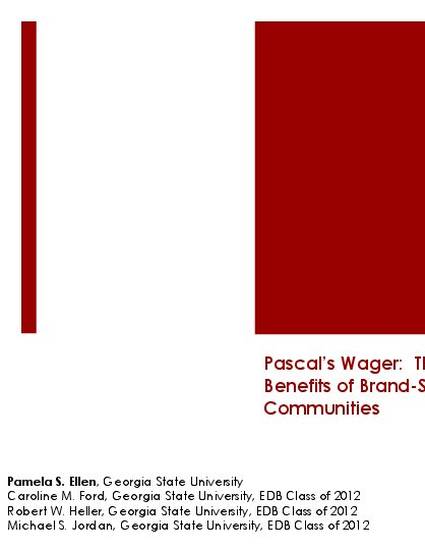 Presentation
Pascal's Wager: The Real or Promised Benefits of Brand-Sponsored Brand Communities
American Marketing Association Summer Educator's Conference (2011)
Abstract
With the exponential growth of consumers using social networking sites such as Facebook, firms are driven to figure out how to exploit this new marketing medium in such a way as to add value to their brand or to further corporate goals. There is much excitement about the potential to reach millions of consumers in a nimble medium at dramatically lower costs and effort. Whether firms are realizing real return or speculating on its purported potential requires a greater understanding of the implicit model guiding the sponsorship of Virtual Brand Communities (VBC). Using a grounded theory approach, this research examines the implicit model that is driving the investment in VBCs from the perspective of a global, multinational firm noted for its innovativeness in social media and from senior marketing executives engaged in social media consulting for agencies. The derived conceptual model demonstrates the positivity bias about the value of VCBs while related literature elucidates some of the particular challenges in achieving this value.
Keywords
social media,
virtual brand communities,
facebook,
grounded theory,
engagement
Publication Date
Summer August 5, 2011
Citation Information
Caroline M Ford. "Pascal's Wager: The Real or Promised Benefits of Brand-Sponsored Brand Communities"
American Marketing Association Summer Educator's Conference
(2011)
Available at: http://works.bepress.com/caroline_ford/2/