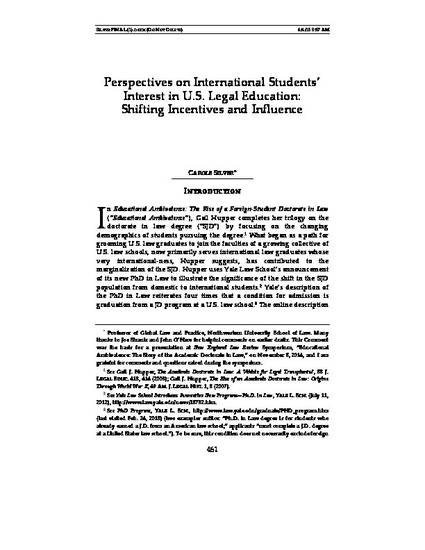 Article
Perspectives on International Students' Interest in U.S. Legal Education: Shifting Incentives and Influence
New England Law Review (2015)
Abstract
This article seeks to situate the shift to international students in U.S. law school SJD programs within the larger context of globalization and higher education, and was published as a comment on Gail Hupper's article on "Educational Ambivalence: The Rise of a Foreign-Student Doctorate in Law." Broadening the framework of analysis allows consideration of the competing factions and opportunities that explain the developing international market for legal education. In addition, this wider lens also offers insight into the incentives shaping new investments in legal (and higher) education, including Yale Law School's new PhD in law.
Keywords
International Legal Education,
New Legal Realism
Citation Information
Carole Silver. "Perspectives on International Students' Interest in U.S. Legal Education: Shifting Incentives and Influence"
New England Law Review
Vol. 49 (2015)
Available at: http://works.bepress.com/carole_silver/22/