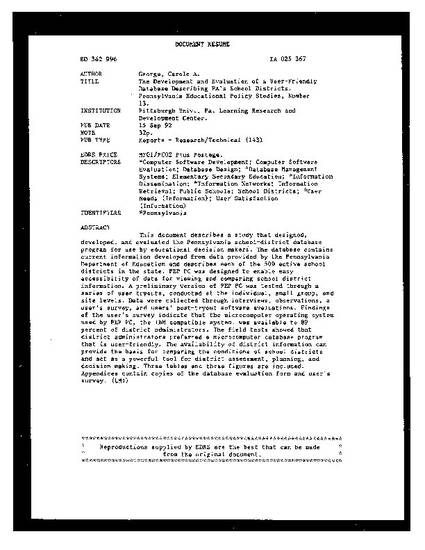 Unpublished Paper
The Development and Evaluation of a User-Friendly Database Describing PA's School Districts
Pennsylvania Educational Policy Studies, University of Pittsburgh (1992)
Abstract
This document describes a study that designed, developed, and evaluated the Pennsylvania school-district database program for use by educational decision makers. the database contains current information developed from data provided by the Pennsylvania Department of Education and describes each of the 500 active school districts int he state. PEPS PC was designed to enable easy accessibility of data for viewing and comparing school districts information. A preliminary version of PEPS PC was tested through a series of user tryouts conducted at the individual, small group, and site levels. Data were collected through interviews, observations, a user-survey, and users' post-tryout software evaluation. Findings of the user's survey indicate that the microcomputer operating system used by PEPS PC, the IBM compatible system, was available to 89 percent of district administrators. The field tests showed that district administrators preferred a microcomputer database program that is user-friendly. The availability of district information can provide the basis for comparing the conditions of school districts and act as a powerful tool for district assessment, planning, and decision making.
Keywords
Computer software development,
computer software evaluation,
database design,
database management systems,
elementary secondary education,
information dissemination,
information network,
information retrieval,
publis school,
school district,
user needs (information),
user satisfaction,
usability test*
Publication Date
September 15, 1992
Citation Information
Carole A. George. "The Development and Evaluation of a User-Friendly Database Describing PA's School Districts"
Pennsylvania Educational Policy Studies, University of Pittsburgh
(1992)
Available at: http://works.bepress.com/carole_george/8/