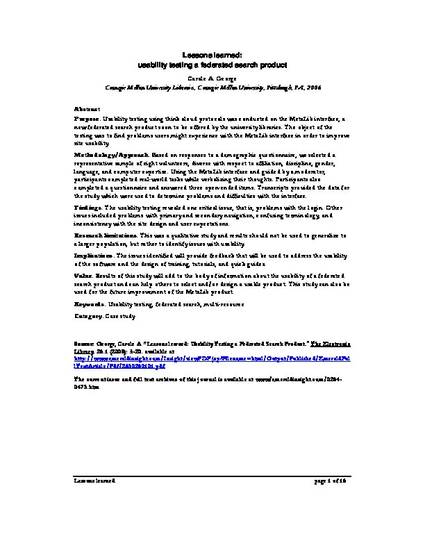 Article
Lessons Learned: Usability Testing a Federated Search Product
The Electronic Library (2008)
Abstract
Purpose. Usability testing using think aloud protocols was conducted on the MetaLib interface, a new federated search product soon to be offered by the university libraries. The object of the testing was to find problems users might experience with the MetaLib interface in order to improve site usability. Methodology/Approach. Based on responses to a demographic questionnaire, we selected a representative sample of eight volunteers, diverse with respect to affiliation, discipline, gender, language, and computer expertise. Using the MetaLib interface and guided by a moderator, participants completed real-world tasks while verbalizing their thoughts. Participants also completed a questionnaire and answered three open-ended items. Transcripts provided the data for the study which were used to determine problems and difficulties with the interface. Findings. The usability testing revealed one critical issue, that is, problems with the login. Other issues included problems with primary and secondary navigation, confusing terminology, and inconsistency with the site design and user expectations. Research limitations. This was a qualitative study and results should not be used to generalize to a larger population, but rather to identify issues with usability. Implications. The issues identified will provide feedback that will be used to address the usability of the software and the design of training, tutorials, and quick guides. Value. Results of this study will add to the body of information about the usability of a federated search product and can help others to select and/or design a usable product. This study can also be used for the future improvement of the MetaLib product.
Keywords
usability,
usability testing,
library,
website,
think aloud protocol,
evaluation,
federated search,
multi-resource search,
higher education,
digital interface,
user-centered,
user-friendly,
usability test
Citation Information
Carole A. George. "Lessons Learned: Usability Testing a Federated Search Product"
The Electronic Library
Vol. 26 Iss. 1 (2008)
Available at: http://works.bepress.com/carole_george/7/