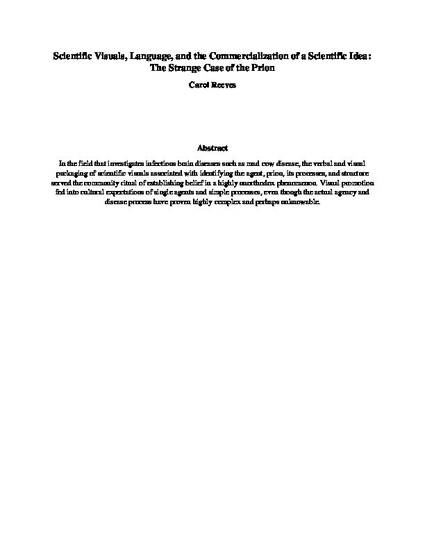 Article
Visual Rhetoric and the Promotion of Scientific Ideas: The Strange Case of the Prion
Technical Communication Quarterly
Publication Date
1-1-2011
DOI
http://dx.doi.org/10.1080/10572252.2011.578237
Abstract
In the field that investigates infectious brain diseases such as mad cow disease, the verbal and visual packaging of scientific visuals associated with identifying the agent, prion, its processes, and structure served the community ritual of establishing belief in a highly unorthodox phenomenon. Visual promotion fed into cultural expectations of single agents and simple processes, even though the actual agency and disease process have proven highly complex and perhaps unknowable.
Citation Information
Carol Reeves. "Visual Rhetoric and the Promotion of Scientific Ideas: The Strange Case of the Prion"
Technical Communication Quarterly
Vol. 20 Iss. 3 (2011) p. 239 - 273
Available at: http://works.bepress.com/carol_reeves/8/