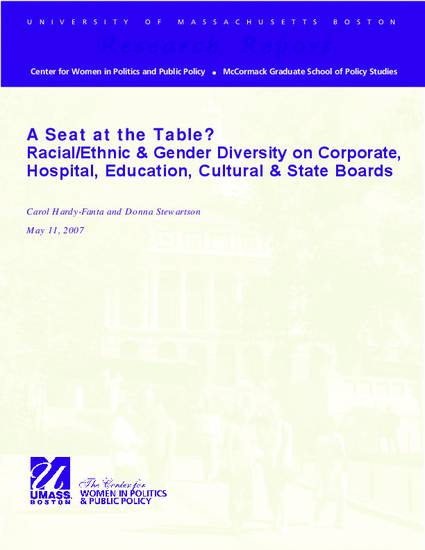 Other
A Seat at the Table? Racial/Ethnic & Gender Diversity on Corporate, Hospital, Education, Cultural & State Boards
Publications from the Center for Women in Politics and Public Policy
Document Type
Research Report
Publication Date
5-11-2007
Abstract
As part of its larger Diversity Initiative, the McCormack Graduate School of Policy Studies at UMass Boston has undertaken a number of projects. The first was a public opinion survey conducted around the time of the November 2006 elections. The report, Transformation and Taking Stock: A Summary of Selected Findings from the McCormack Graduate School Diversity Survey, included a comprehensive look at race relations in the Commonwealth at a time of significant transition—demographically and politically. This report was followed by A Benchmark Report on Diversity in State and Local Government, which focused on the percentage of positions filled by gubernatorial appointment to selected senior-level positions in government (and on selected boards and commissions) a well as on elected and appointed positions in ten cities and towns in Greater Boston. This new study rounds out this series on diversity on governing bodies filled through appointments. For the first time in the history of the Commonwealth, however, researchers at the McCormack Graduate School's Center for Women in Politics & Public Policy undertook a comprehensive study of who sits on the boards of directors/trustees of the top corporations, hospitals, higher education institutions (both private and public) and a sample of major cultural institutions. These are important decision-making positions and we are pleased to share our findings on the racial and gender diversity—or lack thereof—on these for-profit and not-for-profit boards.
Community Engaged/Serving
No, this is not community-engaged.
Citation Information
Carol Hardy-Fanta and Donna Stewartson. "A Seat at the Table? Racial/Ethnic & Gender Diversity on Corporate, Hospital, Education, Cultural & State Boards" (2007)
Available at: http://works.bepress.com/carol_hardy-fanta/8/