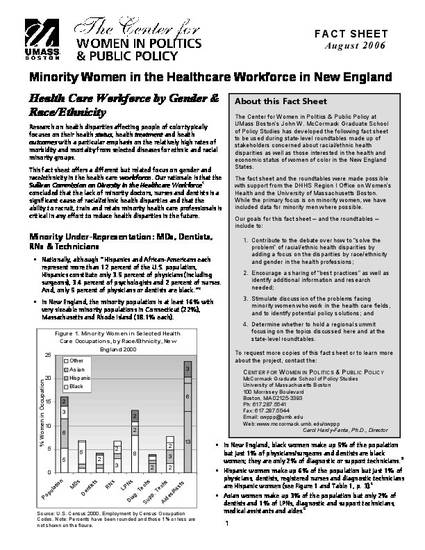 Other
Minority Women in the Healthcare Workforce in New England
Publications from the Center for Women in Politics and Public Policy
Publication Date
8-1-2006
Abstract
Research on health disparities affecting people of color typically focuses on their health status, health treatment and health outcomes with a particular emphasis on the relatively high rates of morbidity and mortality from selected diseases for ethnic and racial minority groups. This fact sheet offers a different but related focus on gender and race/ethnicity in the health care workforce. Our rationale is that the Sullivan Commission on Diversity in the Healthcare Workforce concluded that the lack of minority doctors, nurses and dentists is a significant cause of racial/ethnic health disparities and that the ability to recruit, train and retain minority health care professionals is critical in any effort to reduce health disparities in the future.
Community Engaged/Serving
No, this is not community-engaged.
Citation Information
Carol Hardy-Fanta, Erika Kates, Helen Levine and Kate Peery-Wolf. "Minority Women in the Healthcare Workforce in New England" (2006)
Available at: http://works.bepress.com/carol_hardy-fanta/2/