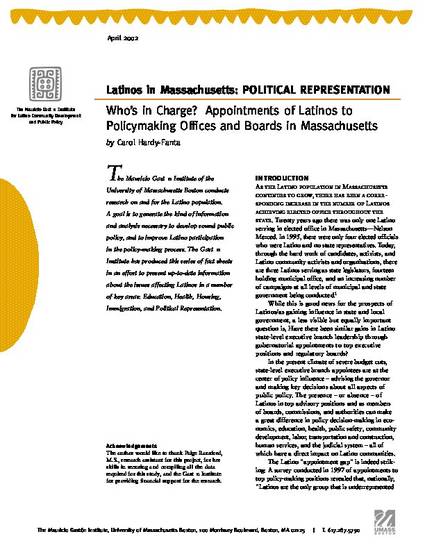 Other
Who's in Charge? Appointments of Latinos to Policymaking Offices and Boards in Massachusetts
Gastón Institute Publications
Publication Date
4-1-2002
Abstract
As the Latino population in Massachusetts continues to grow, there has been a corresponding increase in the number of Latinos achieving elected office throughout the state. Twenty years ago there was only one Latino serving in elected office in Massachusetts—Nelson Merced. In 1995, there were only four elected officials who were Latino and no state representatives. Today, through the hard work of candidates, activists, and Latino community activists and organizations, there are three Latinos serving as state legislators, fourteen holding municipal office, and an increasing number of campaigns at all levels of municipal and state government being conducted. While this is good news for the prospects of Latinos/as gaining influence in state and local government, a less visible but equally important question is, Have there been similar gains in Latino state-level executive branch leadership through gubernatorial appointments to top executive positions and regulatory boards?
Community Engaged/Serving
No, this is not community-engaged.
Citation Information
Carol Hardy-Fanta. "Who's in Charge? Appointments of Latinos to Policymaking Offices and Boards in Massachusetts" (2002)
Available at: http://works.bepress.com/carol_hardy-fanta/16/