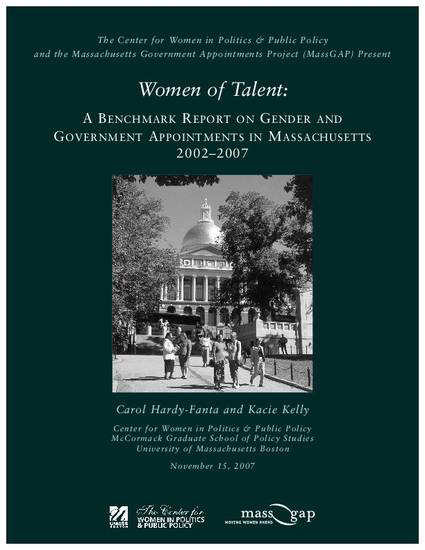 Other
Women of Talent: Gender and Government Appointments in Massachusetts, 2002–2007
Publications from the Center for Women in Politics and Public Policy
Document Type
Research Report
Publication Date
11-15-2007
Abstract
Despite the high educational and occupational attainment—and considerable talent—of women in Massachusetts, the state ranks just 22nd in the nation on women's overall share of top executive, legislative, and judicial posts, compared to their share of the population. The goals of this study were to (1) calculate the percentage of women holding senior-level positions in state government at these four points in time; (2) analyze the distribution of appointments by type of position and executive office; (3) provide possible explanations for the status of women's representation in these positions; and (4) offer recommendations that will serve to promote the appointment of more talented women into positions of leadership in the Commonwealth.
Community Engaged/Serving
No, this is not community-engaged.
Citation Information
Carol Hardy-Fanta and Kacie Kelly. "Women of Talent: Gender and Government Appointments in Massachusetts, 2002–2007" (2007)
Available at: http://works.bepress.com/carol_hardy-fanta/1/