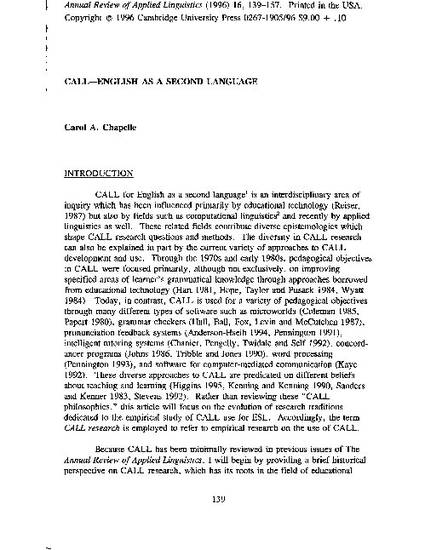 Article
CALL--English as a Second Language
Annual Review of Applied Linguistics
Publication Version
Published Version
Publication Date
1-1-1996
Abstract
CALL for English as a second language1 is an interdisciplinary area of inquiry which has been influenced primarily by educational technology (Reiser, 1987) but also by fields such as computational linguistics2 and recently by applied linguistics as well. These related fields contribute diverse epistemologies which shape CALL research questions and methods. The diversity in CALL research can also be explained in part by the current variety of approaches to CALL development and use. Through the 1970s and early 1980s, pedagogical objectives in CALL were focused primarily, although not exclusively, on improving specified areas of learner's grammatical knowledge through approaches borrowed from educational technology (Hart 1981, Hope, Taylor and Pusack 1984, Wyatt 1984). Today, in contrast, CALL is used for a variety of pedagogical objectives through many different types of software such as microworlds (Coleman 1985, Papert 1980), grammar checkers (Hull, Ball, Fox, Levin and McCutchen 1987), pronunciation feedback systems (Anderson-Hseih 1994, Pennington 1991), intelligent tutoring systems (Chanier, Pengelly, Twidale and Self 1992), concordancer programs (Johns 1986, Tribble and Jones 1990), word processing (Pennington 1993), and software for computer-mediated communication (Kaye 1992). These diverse approaches to CALL are predicated on different beliefs about teaching and learning (Higgins 1995, Kenning and Kenning 1990, Sanders and Kenner 1983, Stevens 1992). Rather than reviewing these "CALL philosophies," this article will focus on the evolution of research traditions dedicated to the empirical study of CALL use for ESL. Accordingly, the term CALL research is employed to refer to empirical research on the use of CALL.
Copyright Owner
Cambridge University Press
File Format
application/pdf
Citation Information
Carol Chapelle. "CALL--English as a Second Language"
Annual Review of Applied Linguistics
Vol. 16 (1996) p. 139 - 157
Available at: http://works.bepress.com/carol_chapelle/18/