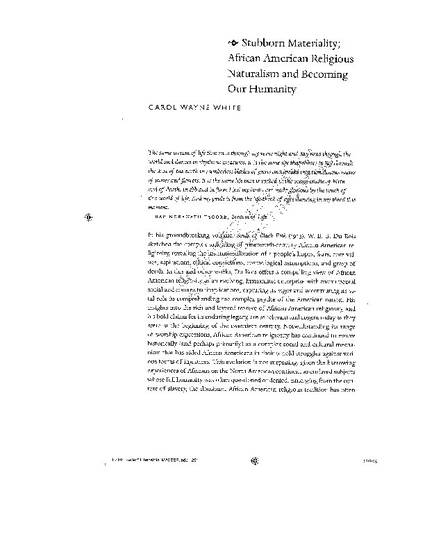 Contribution to Book
"Stubborn Materiality: African-American Religious Naturalism and Becoming Our Humanity"
Entangled Worlds: Science, Religion, and Materiality. (2017)
Abstract
This chapter describes the emergence of an African-American religious naturalism that has affinities with theoretical developments offering new materialist views of the human. It proposes a humanistic discourse that resists both problematic forms of anthropocentricism implicit in modern humanism and questionable racial differentials reinforced by Enlightenment ideals. The chapter introduces scientific theories advanced by the tenets of religious naturalism that help to envision humanity as a specific life form, or as nature made aware of itself. With the concept of sacred humanity, it explores humans as sacred centers of value and distinct movements of nature itself where deep relationality and interconnectedness become key metaphors for understanding what constitutes our processes of becoming human. This naturalistic view of humanity is set within the context of African-American culture and history to underscore the conceptual richness of the liberationist motif within black religiosity and to celebrate its enduring legacy.
Keywords
African-American culture,
anthropocentricism,
Enlightenment,
sacred humanity,
interconnectedness,
materialist,
nature,
religious naturalism,
scientific theories,
value
Editor
Catherine Keller and Mary-Jane Rubenstein
Publisher
Fordham University Press
Citation Information
Carol W. White. ""Stubborn Materiality: African-American Religious Naturalism and Becoming Our Humanity"" Bronx, NY
Entangled Worlds: Science, Religion, and Materiality.
(2017) p. 249 - 273
Available at: http://works.bepress.com/carol-wayne-white/4/