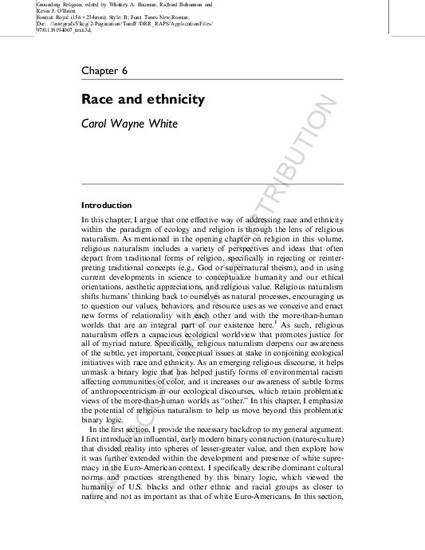 Contribution to Book
White-Ch6-GroundingReligion2.pdf
Grounding Religion: A Field Guide to the Study of Religion and Ecology, Second Edition (2017)
Abstract
One effective way of addressing race and ethnicity within the paradigm of ecology and religion is through the lens of religious naturalism.
Religious naturalism shifts our thinking back to ourselves as natural processes, encouraging us to question our values, behaviors, and resource uses as we
conceive and enact our relationalitywith each other and the more-than-human worlds.
I first describe the presence of white supremacy in United States to help contextualize historical and current problems related to race and ethnicity in ecological movements, as well as the lack of full religious reflection and problematic responses to them. I also discuss key issues related to what some environmental historians and activists call the racialization of nature. Among the examples I provide are dominant cultural norms and practices that reflect how the humanity of U.S. blacks and other people of color have often viewed as inadequate or not as important as that of Euro-Americans.
Advancing the recent work of Carolyn Finney and Dianne D. Glave,I then discuss how racism helps maintain the invisibility and marginalization of African Americans in mainstream environmental discourse. (While my primary focus is on African Americans, I also include historical examples featuring Latino farm workers and Native Americans experiencing similar fates.) To help address these examples of white supremacy, I introduce religious naturalism as an alternative model of conceiving nature, illustrating how it reconfigures our relation to land, to animal others and, indeed, to ourselves.
Finally, I outline the promises of religious naturalism as an important development within religion and ecology, specifically in relation to race and ethnicity.With its emphasis on deep relationality in biology and cosmology, religious naturalism provides a viable model of ethical engagement with myriad nature. As a religious worldview, it both contributes to environmental justice efforts and helps bring diverse groups together to understand our common goal in both enriching human–human relationships, and transforming human and more-than human connections.
Keywords
White Supremacy,
Religious Naturalism,
Environmental Justice,
Environmental Racism,
Myriad Nature,
Racialization of Nature,
Ethical Engagement; Deep Relationality
Publication Date
May, 2017
Editor
Whitney Bauman, Richard R. Bohannon II, & Kevin J. O'Brien.
Citation Information
Carol W. White. "White-Ch6-GroundingReligion2.pdf" 2ndNew York
Grounding Religion: A Field Guide to the Study of Religion and Ecology, Second Edition
(2017) p. 72 - 88
Available at: http://works.bepress.com/carol-wayne-white/2/